DAYTON, Ohio, Aug. 29, 2017
— Midmark Corp., a leading medical solutions provider for ambulatory care, today announced its 2017 Barrier-Free Exam Room Promotion to help improve interactions at the point of care. The "Better Care Starts Here" promotion will help caregivers establish a fully connected exam space designed to create better processes and better patient outcomes.
"We believe better outcomes start at the point of care," said Kurt Forsthoefel, marketing director, medical products and services, Midmark. "The best patient-caregiver interactions at the point of care – and ultimately the best outcomes – are supported by having the right equipment in the right place at the right time. When caregivers use elements like Barrier-Free exam tables that provide a comfortable, accessible experience for the patient and diagnostic equipment that improves accuracy, reduces variability and streamlines processes, the point of care experience improves."
During the "Better Care Starts Here" promotion, Midmark will offer rebates on the following solutions:
• Barrier-Free exam tables, including the
Ritter 244
• Diagnostic products, including:
Midmark IQvitals Zone
,
Midmark IQecg
and
Midmark IQspiro
Important dates:
• Promotion order period: Sept. 1, 2017 to Dec. 22, 2017
• Last date to take shipment of products: Jan. 31, 2018
• Invoice must be dated: Sept. 1, 2017 to Jan. 31, 2018
• Last date to claim incentives: Feb. 28, 2018
For more information on the promotion, visit
midmark.com/bettercare
.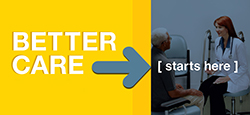 About Midmark Medical
Midmark is focused on helping physicians and care teams deliver the best patient care with better equipment, smarter workflows and integrated technology. For more than 50 years, we have used our knowledge of the ambulatory care space to help our customers improve clinical outcomes and eliminate the barriers preventing seamless, well-coordinated patient care. Learn more at
midmark.com/medical/resource-library
.
About Midmark
Midmark Corporation, a privately held company founded in 1915, is a leading provider of medical, dental and veterinary equipment and technologies. Our nearly 1,700 teammates worldwide are passionate and courageous leaders focused on making a positive difference in the lives we touch by improving the experience between patients and their caregivers. Headquartered in Dayton, Ohio, Midmark maintains production and administrative offices in Versailles, Ohio. Midmark has six other locations in the United States as well as a number of subsidiaries in the United States, including Versus Technology, Inc. Midmark also maintains international subsidiaries in India, Italy and the United Kingdom. To learn more about Midmark, visit
midmark.com
.
Contact:
Meghann Naveau
Content & Social Media Manager
Midmark Corporation
(937) 281-7609
mnaveau@midmark.com