New offerings simplify delivery and integration, allowing customers to remain focused on delivering the best patient care
DAYTON, Ohio, Aug. 31, 2017
— Midmark Corp., a leading medical solutions provider for ambulatory care, today announced Midmark Delivery Services and Midmark Systems Integration, two new offerings designed to provide customers with a turn-key delivery solution. Through robust project coordination, enhanced delivery methods and field-based project managers, Midmark is able to ensure a seamless deployment of equipment with minimal disruption to facility operations. Both services are now available to customers across the U.S. on orders of any size.
Midmark Delivery Services provides customers with a single point of contact for all project coordination efforts, simplifying the process and minimizing the time a customer spends managing projects. From the time of purchase, the Midmark team coordinates off-site, pre-configuration of equipment and accessories to reduce disruption to customer facility operations, streamlining what used to be a cumbersome delivery process. A Midmark-trained team provides delivery, set-up and functional testing of equipment while meeting the specific facility and operational needs of the customer.
Midmark Systems Integration takes delivery and set-up a step further by simplifying the integration of connected solutions. The Midmark team now offers wall mounting of
Care Exchange
and
IQvitals
products, complete wiring of Midmark connected solutions, and a final quality audit to ensure the exam room is fully operational.
"Midmark Delivery Services and Midmark Systems Integration were designed to meet an urgent customer need we identified through in-field observation of deliveries," said Tim Stanley, director of services and solutions, Midmark. "In the absence of rigorous project coordination, trained delivery and setup partners, and integration support, our customers' expectations were consistently going unmet. No two projects are the same, and our team understands how to identify, plan for, and execute against any obstacles that typically cause a delivery to fall short of expectations."
"As we've piloted these services over the last seven months, we're seeing great success," said Aaron Maggard, product manager, services and solutions, Midmark. "Our team has successfully executed more than 300 projects of varying size and complexity across the U.S. Following a 92 exam table delivery in Utah, the materials manager for the facility remarked that it was 'by far the best delivery' he had experienced in his career managing projects. That sentiment is consistent with the customer feedback we're seeing on a daily basis."
For more information about these programs, please contact a
Midmark sales representative
or call 1-800-MIDMARK.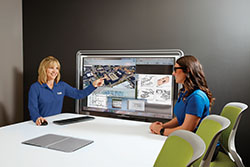 Midmark Delivery Service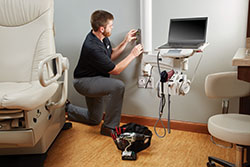 Midmark Systems Integration Service
About Midmark Medical
Midmark is focused on helping physicians and care teams deliver the best patient care with better equipment, smarter workflows and integrated technology. For more than 50 years, we have used our knowledge of the ambulatory care space to help our customers improve clinical outcomes and eliminate the barriers preventing seamless, well-coordinated patient care. Learn more at
midmark.com/medical/resource-library
.
About Midmark
Midmark Corporation, a privately held company founded in 1915, is a leading provider of medical, dental and veterinary equipment and technologies. Our nearly 1,700 teammates worldwide are passionate and courageous leaders focused on making a positive difference in the lives we touch by improving the experience between patients and their caregivers. Headquartered in Dayton, Ohio, Midmark maintains production and administrative offices in Versailles, Ohio. Midmark has six other locations in the United States as well as a number of subsidiaries in the United States, including Versus Technology, Inc. Midmark also maintains international subsidiaries in India, Italy and the United Kingdom. To learn more about Midmark, visit
midmark.com
.
Contact:
Meghann Naveau
Content & Social Media Manager
Midmark Corporation
(937) 281-7609
mnaveau@midmark.com