Caring for community shines at giving Tuesday blood drive
DAYTON, Ohio
- In the late hours of a cold and snowy "Giving Tuesday," Nov. 27, at the Midmark Versailles location, donors on the night shift at Midmark Corp. gave a bit more and reached a substantial milestone. Before the clock struck midnight, Midmark celebrated its 5,000th employee blood donation.
The countdown to the moment began in 2011 when Midmark hosted three Community Blood Center blood drives, allowing teammates (employees) to take time to donate while on the clock. By 2013, the number increased to 16, including night shift blood drives for the first time. Midmark now averages 18 blood drives per year.
The celebrated 5,000th donation in Midmark's long history of giving came from one of its newest teammates. Mason Kuhn is a 2016 Piqua High School graduate who started work on the late shift just four weeks ago. He helped Midmark reach the milestone with his first lifetime donation.
Kuhn learned of the blood drive at Midmark. He stated, "I never gave blood before. I figured, why not make it the first thing I do tonight? So, I came in tonight and gave blood for the first time."
Though new to Midmark, he soon learned about the culture of giving back to the community. "Midmark is loyal to giving back," he said. "I like that. I'm glad to be a part of it."
"Paying it forward, giving back is a big part of the culture of the company," said Mitch Eiting, global philanthropic and corporate giving manager for Midmark. "That's why we allow the donations to happen on company time. The teammates appreciate it and we appreciate it. It's something we can do for the greater good. It's the way we are."
"It's about saving lives," said night shift worker Isabelle Crowe from Arcanum, who only recently returned from maternity leave and made her fourth lifetime donation Tuesday night. "I love this company," she said. "The blood drives show Midmark's willingness to help."
Eiting can be found serving juice and cookies to donors at every blood drive, including the night shift. The Giving Tuesday blood drive had the added treat of bright red cupcakes and noise-makers to celebrate the 5,000th donation milestone. "We started in 2011," said Eiting. "When I started adding up the numbers about a month ago, it became evident how many potential lives our teammates saved."
Eiting and CBC Account Representative Dana Puterbaugh calculated Midmark would reach 5,000 donations during their 114th blood drive on Giving Tuesday. It's the equivalent of 625 gallons with the potential to save three times as many lives.
"That's a big deal," said Eiting. "We're doing something. We're making a difference."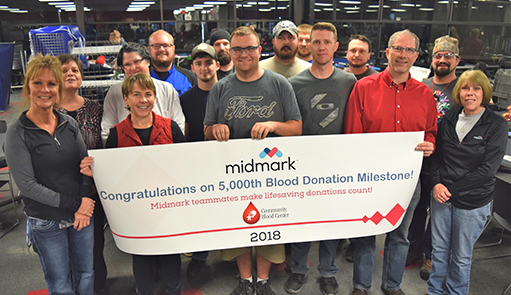 Midmark Corp. celebrates 5,000 employee blood donations with Community Blood Center.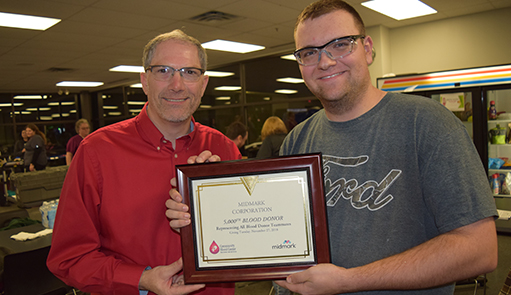 Midmark Global Philanthropic & Corporate Giving Manager Mitch Eiting joined Midmark teammates in congratulating 5,000th blood donor Mason Kuhn.
About Community Blood Center
Community Blood Center/Community Tissue Services
®
is an independent, not-for-profit organization. Community Blood Center provides blood products to 25 hospitals and health centers within a 15-county service area in the Miami (Ohio) and Whitewater (Indiana) Valleys. For more information about Community Blood Center/Community Tissue Services
®
, visit
www.givingblood.org
.
About Midmark
Midmark Corporation is the only clinical environmental design company that enables a better care experience for the medical, dental and animal health markets. With more than 1,800 teammates worldwide, Midmark focuses on harmonizing clinical space, technology and workflows for caregivers and patients at the point of care. Founded in 1915 and headquartered in the greater Dayton, Ohio, area, Midmark maintains production and administrative offices in Versailles, Ohio, with six other locations in the United States as well as subsidiaries in India, Italy and the United Kingdom. To learn more about Midmark, visit
midmark.com
.
Contact:
Mark Pompilio
CBC PR/Marketing
937) 461-3412
Susan Kaiser
Media and Communications Manager
Midmark Corporation
(937) 528-7529
skaiser@midmark.com