DAYTON, Ohio, June 4, 2019 — Midmark Corp., a leading provider of medical, dental and veterinary equipment, technology and services, today announced it acquired Mason Company, an animal boarding and containment solutions company located in Leesburg and Lebanon, Ohio. The acquisition adds to Midmark's growing portfolio and expands the company's ability to work closely with our channel partners and customers in animal health to create a better care experience for pets and their owners.
With the addition of Mason's architectural and design expertise, together with their industry leading product offering, Midmark will provide solutions designed for comfortable and aesthetic accommodations for long-term boarding of companion animals.
"We are extremely excited to welcome Mason Company to the Midmark family," said John Baumann, president and CEO of Midmark. "The expertise Mason brings to Midmark enhances our position to design better care environments for our customers. It also strengthens Midmark's position as a leader of the animal health space that continues to bring our customers innovative solutions and new ideas as they strive to improve the quality of care."
Pairing well with Midmark's stainless-steel offerings and Synthesis cabinetry, the Mason product is a preferred solution for animal health facilities that offer overnight accommodations to their clients. This brings new opportunities to Midmark through involvement in early discussions of new construction. Jon Wells, chief commercial officer for Midmark stated, "Being involved in the early stages of a project gives us the ideal platform to deliver solutions to our customers by bringing clinical spaces, comprehensive technologies and workflows into harmony."
The designs and materials that make up Mason's products complement the "fear-free" trend that is prevalent in the animal health space. Fear Free Certified Practices promote quiet and calming environments by carefully considering the workflow and the acute senses of the animal patients, fostering better outcomes for pets and their owners.
Founded in 1892, Mason Company is a recognized leader in the animal care industry, offering the broadest product line in the companion animal enclosure marketplace.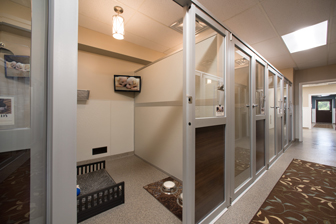 Luxury Dog Suites by Mason Company provide long-term or short-term living space for dogs. Pet resorts and other boarding facilities, animal shelters and humane societies can benefit from being able to offer an enriched luxury living space for dogs that functions as a bedroom and offers a "home away from home."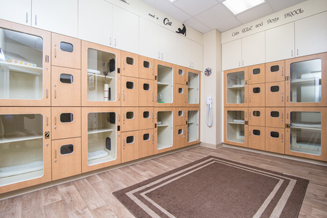 The Raintree Cat Condo by Mason Company is the ultimate in comfort and functional design. Designed specifically for feline boarding needs, standard features include a built-in feeding/watering ledge, a resting shelf and a privacy area for litter.

About Midmark
Midmark Corporation is the only clinical environmental design company that enables a better care experience for the medical, dental and animal health markets. With nearly 2,000 teammates worldwide, Midmark focuses on harmonizing clinical space, technology and workflows for caregivers and patients at the point of care. Founded in 1915 and headquartered in the greater Dayton, Ohio, area, Midmark maintains production and administrative offices in Versailles, Ohio, with seven other locations in the United States as well as subsidiaries in India, Italy and the United Kingdom. To learn more about Midmark, visit midmark.com.
Contact:
Susan Kaiser
Media and Communications Manager
Midmark Corporation
937.417.2430 – mobile
skaiser@midmark.com