Staff aim to streamline patient visits and reduce wait times at state-of-the-art facility
DAYTON, Ohio, Oct. 28, 2020
— Midmark RTLS, a leading real-time locating system (RTLS) technology provider focused on clinical workflow solutions and data insights that improve the delivery of care, today announced that the St. Elizabeth Cancer Center in Edgewood, Ky. opened its $130 million state-of-the-art oncology facility using Midmark RTLS to streamline the patient visit and enhance care team collaboration.
Projected to serve about 500 patients each day, the 250,000 square-foot, six-story facility brings all of St. Elizabeth's cancer treatments into one place: detection, diagnosis and care. "The idea of the building is to combine the care of cancer under one roof," says Dr. Doug Flora, executive medical director of St. Elizabeth Oncology Services. "Every aspect of this building is to enhance collaboration among care providers and deliver the best patient outcomes."
The cancer center has been intentionally designed to provide a leading care experience for patients, using Midmark RTLS to streamline patient flow. Patients, providers and staff wear lightweight locator badges that automatically update the
Patient Flow Optimization
software, giving staff a bird's-eye view of where patients are, how long they've been waiting, who has seen them, and who needs to see them next.
"By knowing where everyone is, and who they interacted with, RTLS can be used for contact tracing, so anyone who comes within six feet of a locator badge can be identified," adds Flora. "And it lets us identify operational problems. If there is a bottleneck that might slow down our day, we can address it so that everyone stays on schedule."
St. Elizabeth also uses RTLS to automate notification of chemotherapy delivery to patient rooms. When a pharmacy technician wearing an RTLS badge arrives in the patient room, their presence triggers a visual cue that notifies the infusion nurses that the medication arrived, and the nurse can begin the infusion. This and other real-time indicators help staff proactively reduce patient wait times and support more efficient flow of care.
In addition to real-time patient flow optimization, the system captures an enormous amount of historical data. Using Midmark RTLS reports, administrators can assess data insights on patient wait times, room utilization and more. St. Elizabeth plans to use this data to continually monitor the patient experience and make data-driven process improvements.
While Midmark RTLS helps streamline patient flow efficiencies, the St. Elizabeth Cancer Center is also outfitted with Barrier-Free exam chairs and power procedure chairs to create a better care experience for patients and staff.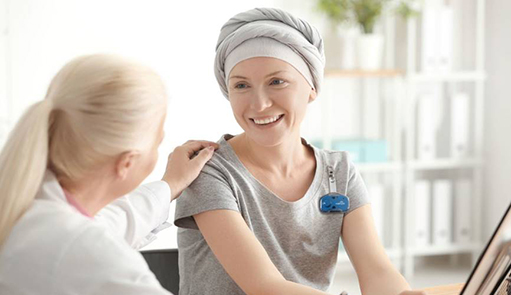 Midmark provides RTLS Patient Flow Optimization for Oncology, enabling oncologists, nurses and staff to maximize their time where it truly matters—on providing the best possible patient care.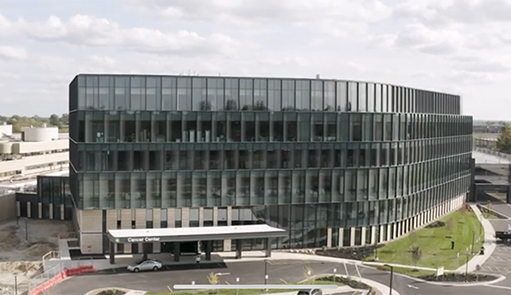 The St. Elizabeth Cancer Center, Edgewood, Kentucky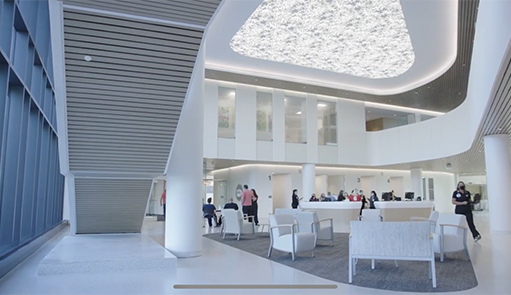 The St. Elizabeth Cancer Center Lobby Area
About Midmark RTLS
Midmark RTLS provides healthcare facilities with clinical workflow solutions and data insights using real-time locating system (RTLS) technology. Since its inception in 1988, more than 1,100 hospitals, clinics and oncology centers have used Midmark RTLS to enhance the patient experience and deliver high-quality care. With solutions for patient flow, staff safety, asset tracking and automated contact tracing, Midmark RTLS can help improve communication and productivity to increase resource utilization and decrease waste. To learn more about Midmark RTLS, our technology, client successes, and how we can assist your facility, visit
midmarkRTLS.com
.
About Midmark
Midmark Corporation is the only clinical environmental design company that enables a better care experience for the medical, dental and animal health markets. With more than 1,800 teammates worldwide, Midmark focuses on harmonizing clinical space, technology and workflows for caregivers and patients at the point of care. Founded in 1915 and headquartered in the greater Dayton, Ohio, area, Midmark maintains production and administrative offices in Versailles, Ohio, with six other locations in the United States as well as subsidiaries in India and Italy. To learn more about Midmark, visit
midmark.com
.
About St. Elizabeth Healthcare
St. Elizabeth Healthcare operates five facilities throughout Northern Kentucky and more than 115 primary care and specialty office locations in Kentucky, Indiana and Ohio. A member of the Mayo Clinic Care Network, St. Elizabeth is a mission-based organization committed to improving the health of the communities it serves, providing more than $116 million in uncompensated care and benefit to the community in 2018. For more information, visit
www.stelizabeth.com
.
Contact:
Susan Kaiser
Media and Communications Manager
Midmark Corporation
937.417.2430 – mobile
skaiser@midmark.com