Midmark introduces upgraded sterilizers at ADA World Dental Congress
DAYTON, Ohio, Sept. 9, 2019 — Midmark Corp., a leading dental solutions provider, recently introduced updated Midmark M9 and M11 Steam Sterilizers, a line of tabletop sterilizers designed to be safe and dependable, at the ADA World Dental Congress in San Francisco. The stainless-steel construction and third-party ASME certification of these sterilizers help ensure control of infection and long-lasting reliability, while upgraded capabilities help maximize the efficiency of instrument cleaning and sterilization.
"Effective instrument processing starts with dependable equipment and a simple workflow," said Darwin Asa, marketing manager at Midmark. "The updated Midmark M11 and M9 Steam Sterilizers provide the reliability and simplicity dental practices need to deliver safe, efficient care."
The sterilizer cycle times have been updated to comply with FDA recommended 4-minute standard cycles, which aligns with most chemical and biological indicators. The sterilizers feature improved drying capabilities, are available in a new color and include an on-edge pouch rack. The optional printer accessory has been updated for simpler, immediate documentation.
The updated sterilizer release comes just in time for the Midmark Dental 2019 Year-End Sterilizer Promotion. With the "Safety Simplified" promotion, dental practices can earn cash back when they purchase any eligible Midmark M11 or M9 Steam Sterilizer. For more information on the promotion, visit midmark.com/safety.
Midmark designers help reduce bottlenecks and optimize instrument workflow to ensure clinicians meet the busy demands of their practices. The Midmark team considers the many ways space and workflow design will drive efficiencies in instrument processing centers.
For more information about Midmark instrument processing solutions, visit midmark.com.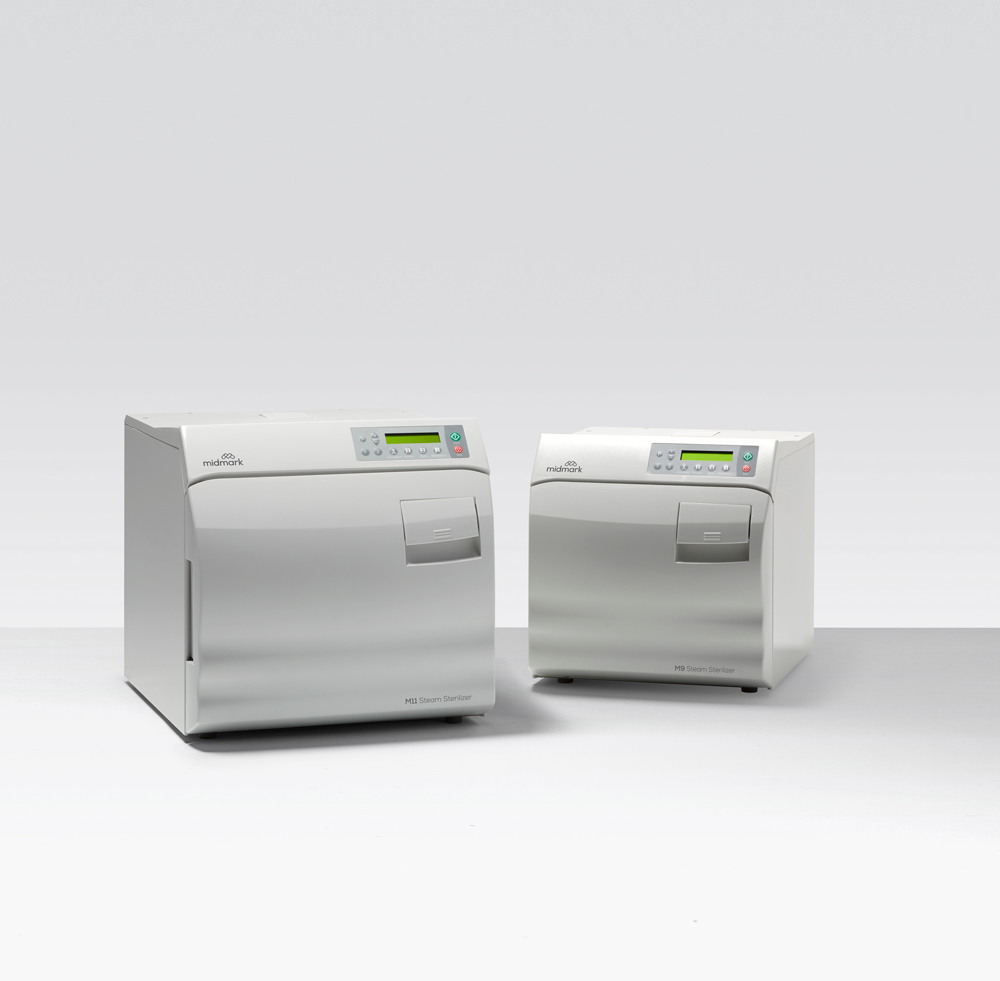 About Midmark ̶ Dental
Midmark is focused on designing better care by harmonizing the clinical space, technology and workflows for dental professionals. Quality, high-performance solutions provide integrated ergonomic support, keeping the principles of safety for patients and practice teammates at the center of design. Midmark is a single-source leader for planning, equipping and developing better utilization of operatory, imaging, instrument processing, dental cabinetry and mechanical room solutions. Learn more at midmark.com/dental.
About Midmark
Midmark Corporation is the only clinical environmental design company that enables a better care experience for the medical, dental and animal health markets. With nearly 2,000 teammates worldwide, Midmark focuses on harmonizing clinical space, technology and workflows for caregivers and patients at the point of care. Founded in 1915 and headquartered in the greater Dayton, Ohio, area, Midmark maintains production and administrative offices in Versailles, Ohio, with eight other locations in the United States as well as subsidiaries in India, Italy and the United Kingdom. To learn more about Midmark, visit midmark.com.
Contact:
Rachel Ramke
Content and Social Media Manager
Midmark Corporation
1.800.MIDMARK – ext. 147526
rramke@midmark.com