Debunking RTLS Myths: More Than Tracking
By Jeanne Ehinger, Marketing Manager, Midmark Corp.
October 18, 2018
Real-time locating system (RTLS) technology is not a new phenomenon. It has existed for over 25 years, and earlier this year, it was cited by HIMSS Analytics as number four on the list of Hospitals' Top 10 Predicted First Time Solution Investments. Yet frontline healthcare professionals are sometimes hesitant to adopt this technology, and there are plenty of myths circulating about it.
Over the next few weeks, we'll be debunking some myths and misunderstandings about RTLS here on the blog to help you better understand the incredible benefits that this technology can bring to your health system. If you'd like to receive these posts in your inbox, you can subscribe to our email list here.
Myth #1: RTLS is just about tracking equipment.
It's true that with RTLS, you can track locations of people and equipment in your facility—this is one of its most basic (and useful) features. However, RTLS has much more potential to impact healthcare operations than simply locating people and equipment. The real value lies beyond simple "tracking," but rather what can be done with that highly accurate location data.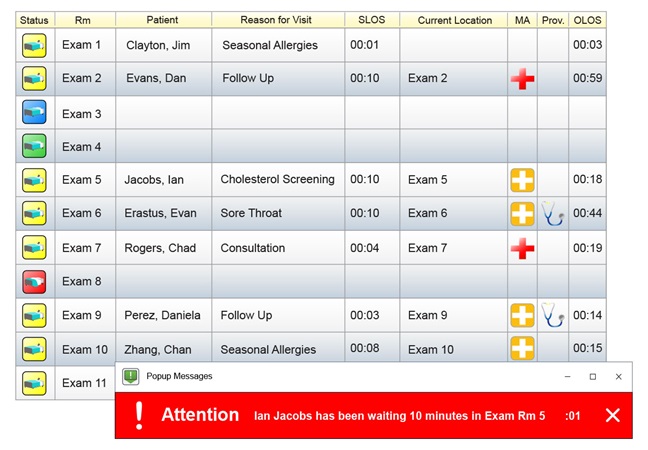 Midmark RTLS does more than simply tell you where people and equipment are. Our software uses precise location data gathered by our sensors to trigger configurable prompts and cues, helping caregivers optimize every moment of care delivery for a positive patient experience.
For example, the software can recognize how long a patient has been waiting and signal an alert to staff to let them know that the patient needs to be seen. Or, instead of the traditional "flags and tags" method (using the colored lights or flags outside each patient room to indicate room status), Midmark RTLS can signal the provider when the patient is ready to be seen.
When location data is used in meaningful ways like these, it helps improve patient flow, helps staff provide prompt, timely care, and creates a better overall care experience for both the patient and the caregiver.
Next, we'll be debunking Myth #2: RTLS badges aren't safe to wear here on the blog, so be sure to subscribe or check back to learn more.