Using RTLS to Maximize Patient Access
A report from the Medical Group Management Association (MGMA) highlights a major challenge facing practices today: optimizing the patient schedule. Maximizing Patient Access and Scheduling looks at major drivers behind this issue as well as best practices to overcome the challenge, including the use of real-time locating system (RTLS) technology.
MGMA cites two key stats to illustrate the issue. According to the Physicians Foundation, 81% of physicians described themselves as overextended or at full capacity. An MGMA Stat poll found that 58% of practices have changed processes to improve patient access, and 23% are actively working on it.
The report goes on to discuss issues and best practices with regard to hours of operation, patient portals, same-day appointments and no-shows as well as keeping exam rooms full with the help of RTLS technology.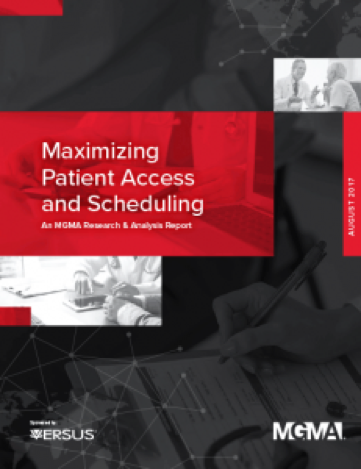 The following is an excerpt from the report:
Keeping exam rooms filled will optimize your office provider rotation. Organizing that schedule, however, requires a great deal of attention. Done improperly, it can result in staff wasting time trying to identify available rooms for waiting patients. In addition to a traditional wheel scheduling model (that is, scheduling patient visits in increments with documentation and other tasks planned near the end of each hour), some practices seek out technology such as real-time locating solutions (RTLS) that facilitate communication of where different patients, providers and staff are in the office at a given time.
Cheryl Becker, RHIA, CPHQ, MGMA member, manager, clinic operations, Aurora Children's Health + UW Health at Aurora Baycare Medical Center, Green Bay, WI, specifically used RTLS to help drive design of a new pediatric clinic that eliminates the waiting room altogether while building onstage/offstage areas that allow providers to have "behind-the-scenes" conversations in private, staff-only areas while patients navigate public hallways. The benefits are lower wait times and increased provider productivity – both of which help boost patient satisfaction. "In fact," Becker wrote, "patient comments on the CG-CAHPS survey rave" about the new process for room scheduling.
RTLS technology also helps break from the idea of one specific room being tied to any one provider, which increases room utilization. Rodney Haas, organizational improvement management principal, University of Minnesota Physicians, cites the new M Health Clinics and Surgery Center as an example where Midmark RTLS is used to assign rooms dynamically to providers on a "first up" basis. This flexible care model allows 1,500 staff members and 37 specialties to accommodate 2,400 unique visits per day in only 178 exam rooms.
MGMA members can access the full report at mgma.com/resources/resources/products/maximizing-patient-access-and-scheduling.
For more on how Aurora Children's Health + UW Health eliminated the waiting room with Midmark RTLS, download the 2016 MGMA education session slides.