TRAVERSE CITY, Mich. and DAYTON, Ohio, March 5, 2018 — Versus, the leading provider of staff workflow and patient flow technology using real-time locating systems (RTLS), today announces a new locator badge for patients and staff.
Featuring dual infrared (IR) and radio frequency (RF) signaling technology that provides industry-leading location accuracy1 in a smaller, lightweight form factor, the Clearview™ Mini is four wearables in one.
With two options for the wrist and two for the lapel using standard attachments, or with colorful, reusable silicone accessories, one badge provides multiple options for patients and staff:
Lightweight, effortless attachment with standard clothing clip
Simply clip to lapel with reusable silicone protection sleeve
Wearable on the wrist using reusable silicone wrist accessory
Secured to wrist using a standard hospital band
The Clearview Mini is available with a programmable button or without. Silicone accessories are sold separately in white, charcoal gray, pink or blue.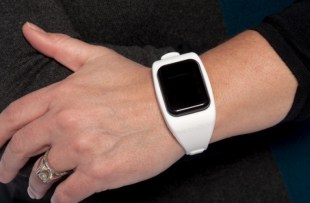 The Clearview™ Mini patient and staff RTLS badge can be worn on the wrist or lapel, using reusable silicone accessories or via standard clothing clips or hospital bands.
To learn more about the Clearview Mini, download our info sheet at versustech.com/mini, or visit the Versus-Midmark Booth at HIMSS18, #5850.
Midmark Corporation acquired Versus Technology, Inc. in May 2016, creating a unique offering of clinical workflow solutions that encompass clinical workflow services, RTLS technology, medical equipment, diagnostic devices and design assistance for improved efficiency within health systems.
1 Source: "Real-time Location Systems (RTLS) 2016," July 2016. © 2016 KLAS Enterprises, LLC. All rights reserved. www.KLASresearch.com.
About Versus Technology, Inc.
Versus Technology, Inc., a Midmark company, provides healthcare facilities with operational and clinical workflow intelligence using real-time locating system (RTLS) technology. Since its inception in 1988, more than 850 hospitals, clinics and senior care facilities have used Versus solutions to support healthcare's ultimate goals: enhancing the patient experience while providing high-quality care at lower costs. With enterprise solutions for patient tracking, workflow automation, staff safety, hand hygiene and asset tracking, Versus improves patient flow, communication, and productivity to ultimately increase capacity. To learn more about Versus Technology, Inc., our technology and client successes, visit versustech.com.
About Midmark
Midmark Corporation, a privately held company founded in 1915, is a leading provider of medical, dental and veterinary equipment and technologies. Our more than 1,700 teammates worldwide are passionate, courageous leaders focused on making a positive difference in the lives we touch by improving the experience between patients and their caregivers. Headquartered in Dayton, Ohio, Midmark maintains production and administrative offices in Versailles, Ohio, as well as seven other locations in the United States and international subsidiaries in India, Italy and the United Kingdom. To learn more, visit midmark.com.